Yes....But how do you defend against their claw?
Last night, I took in the third night of Yo La Tengo's 'Channukahpalooza' along with OneLouder , MegaMegaMega, and Peephole, as well as the Woman and the last member of our posse to be unfortunate enough to still attend law school. I makes no bones about the fact that I am a relative YLT neophyte, being only familiar with three of their several albums, but this fact did not make the show difficult to appreciate for what it was---completely excellent.

The evening was a considerably multi-tiered affair, beginning with a 4-piece called "The Pubes;" who were comprised of kids who each appeared to be 14 years old. They looked very similar to dudes I would have been friends with in my Jewish Youth Group days, and I think it's only a matter of time before they all start doing drugs and discover the Dead. Although I was unable to figure out exactly how they stepped into the considerable role of opening for Yo La Tengo (I'm guessing nephews of band members), they played basic "hardcore" rock befitting ambitious 14 year olds, and were amusing, if not exactly tight. Then again, let's see you try being tight when you're playing at 8 PM in front of a cadre of aging hipsters. They received a hearty round of applause, and the guitarist could actually shred when he felt like it.

This was followed up by a supposed 'reunion' of "The Shams," which the All Music Guide would lead you to believe were a trio of psychedelic rockers from Ohio who put out one record in 2001. In fact, they were a trio of middle aged women playing pleasant, harmony laden folk ditties that would've probably gone over very well with Indigo Girls fans. After getting over the shock of realizing that they were not a psychedelic rock band from Ohio, they weren't half bad, and regaled the audience with humorous stories about recording for Matador in the early 90's, and shooting a video where a "dead body" was actually played by two different people; each with noticeably different chest hair patterns. Can't ever recall seeing that one on 120.

The ladies were followed by the comedy stylings of Patton Oswalt, a unique comedian in the sense that he was actually hysterical; ruminating on the incredible gayness of the Metal Mania portion of VH1 Classic, and why Cheetos are the ultimate snack food, both in terms of taste and guilt factor. He also plainly knew his audience; tossing in a quick reference to The Magnetic Fields that had the masses howling.
But the audience was here to see what's quite possibly the most un-indie rock looking band in the history of indie rock, Yo La Tengo. They did not disappoint. I wrote for a Rutgers College weekly back in 1997, and the head arts editor reviewed their "I Can Hear The Heart Beating As One" with the simple phrase-"Yo La Tengo is the only band in the world that can do whatever the hell it wants without sounding stupid." That basically sums it up. Though perhaps most similiar in sound (if not spirit) to the Velvet Undergound, a YLT show covers a variety of bases, ranging from 10 minute feedback epics, whispery acoustic balladry, Nuggets-style fuzz organ freakouts, and stomping garage rock covers ("professional indie" is how MegaMegaMega accurately described the sound). All of this and more was on display last night, and it was quite simply impossible to be bored.
In addition to the core trio of guitarist/organist Ira Kaplan, drummer Georgia Hubley, and bassist James McNew, they were joined by a member of The Shams, an additional guitarist, and for the encore, an aging British dude with a thick cockney accent named Wreckless Eric who led the band through a variety of ragged covers ranging from Blondie's "Sunday Girl" to Simon and Garfunkel's "America" (big ups to MegaMegaMega for the Wreckless Eric link). Highlights included an incredibly animated (lots of Ira Kaplan guitar swinging antics) version of the feedback epic "I Heard You Looking" (from 1993's Painful), a spooky take on "Everyday" from And Nothing Turned Itself Inside Out, "Sudden Organ" (also from Painful), and a large percentage of tunes from the Electopura record. Fantastic Hannukah-themed band t-shirts too. I picked one up with the band's name over a drawing of a boy with a gefilite fish jar and a huge star of David. I took some photos too, which can be seen below. Unfortunately, Picasa apparently only lets you post one photo per entry, which is lame. Oh well. Check the aforementioned blogs for more info on this show.
And much love to the Woman for forcing me to listen to this fantastic band in the first place.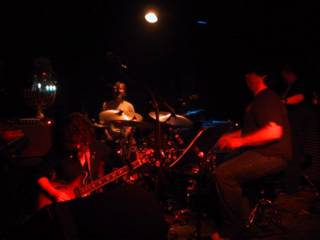 can't stop the rock.