"Next Year Is Waiting Until the 8th Inning...Every Game."
Well....it may be too soon in the season to say that the title of this post always holds true, but damn if opening day at Shea wasn't similar to the Pedro/Smoltz battle that preceded it. Two (former?) aces locked in a pretty decent pitcher's duel, and the Amazin's once again waited until the 8th to blow the game open with a 5-spot. Differences between yesterday's game and Sunday would be that Glavine left in the 6th, creating the opportunity for Manny Aybar and Dae-Sung Koo to immediately cough up a two run lead (do I hear Heath Bell?), and that the long ball was completely absent. But timely pinch-hitting (Cairo and Anderson...both batting .667 if memory serves), woefully inept outfielding (courtesy of the Astros), and a classic Johnny Franco performance allowed the Mets to carry the day. Not to be lost were 2 very clutch hits from Kaz Matsui (to make up for some of the saddest looking hacks this side of Al Leiter), and consistently awe-inspiring (well....by Mets standards for the past 7 years) 1st base work by Dougie M. No way in hell Piazza or JP would have made half of those plays last year.

Shea is still a viral cess pool, opening day still brings out the dirtiest Mets fans imaginable, the price of hot dogs has increased, and for some reason the magnetic calendar is a heck of a lot harder to read than it was last year. Either that or I'm going blind. Let's Go Mets.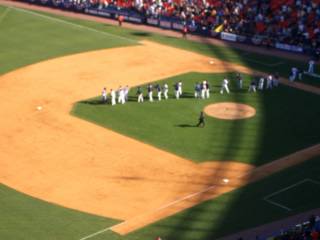 A job well done.